Posters with a story
"THERE ARE BUILDINGS THAT HAVE SPECIAL MEANING TO US, UNFORTUNATLY THEY DON'T ALWAYS GET TO SURVIVE TIME. IN THIS SERIES I HAVE FOCUSED ON THE BUILDINGS WHERE GREAT MUSIC ONCE PLAYED. IT'S MY WAY OF GIVING THESE BUILDINGS A NEW LIFE. 
___TO LET THEM SHINE ONCE AGAIN!"
Dennis, Art By Mejdal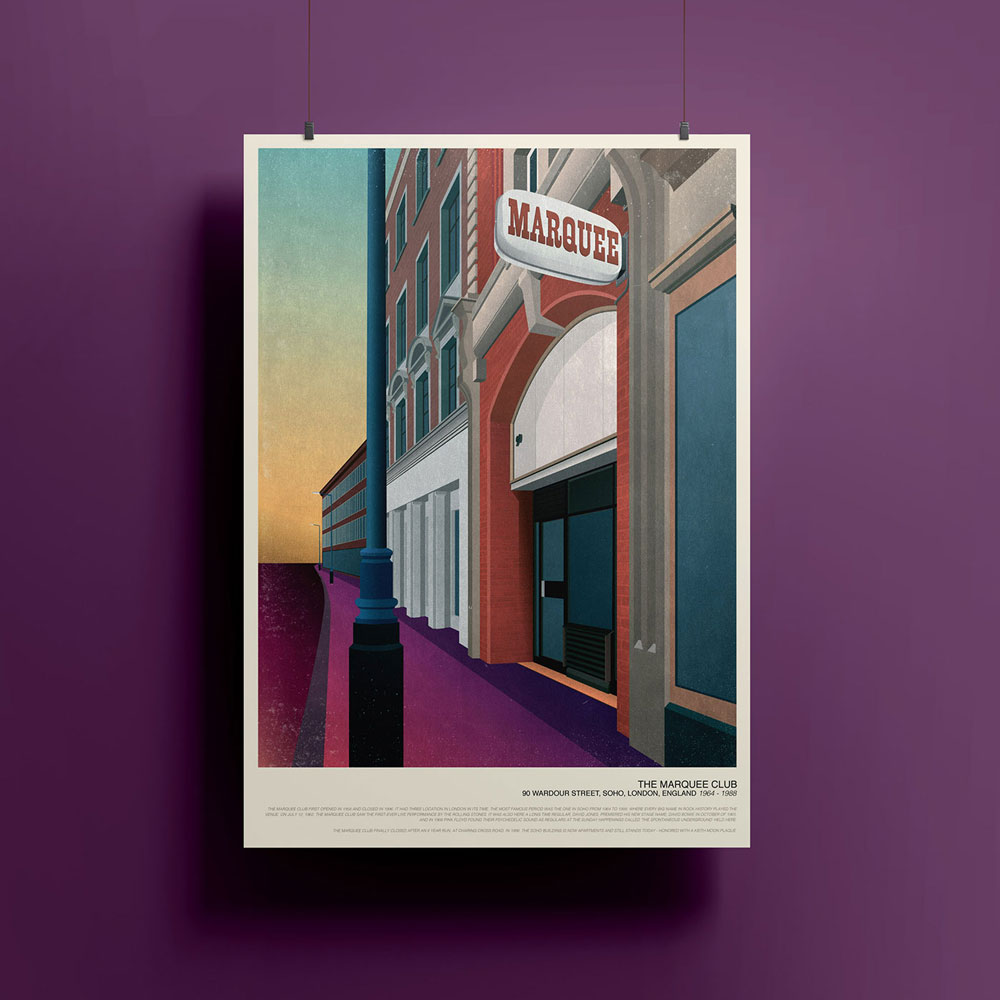 #01
IT'S SWINGING LONDON.
IT'S DAVID GOING FROM
JONES TO BOWIE.
IT'S PINK FLOYD FINDING
THEIR PSYCHEDELIC SOUND.
IT'S____
THE MARQUEE CLUB
BUY POSTER
#02
IT'S THE SIXTIES NEW YORK.
IT'S HENDRIX, ZEPPELIN
AND THE DEAD.
IT'S THE CHURCH OF
ROCK'N'ROLL.
IT'S______
FILLMORE EAST
BUY POSTER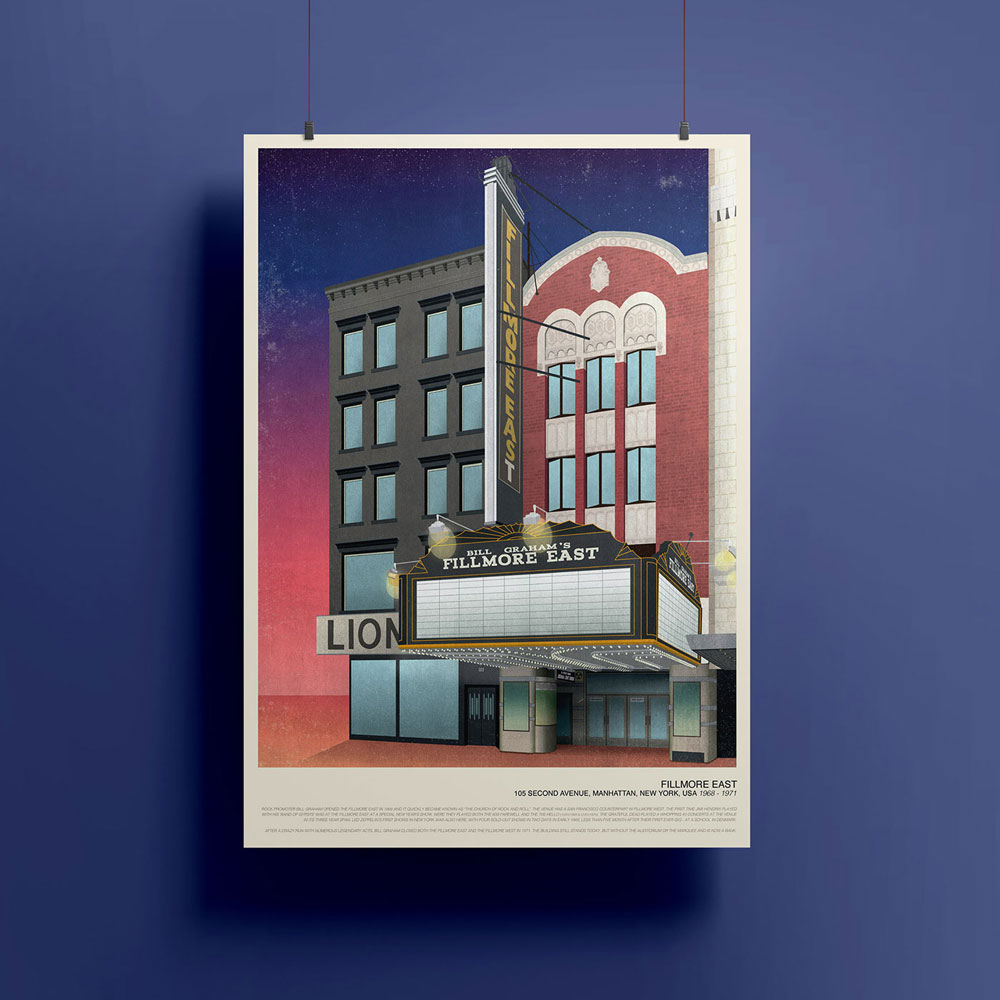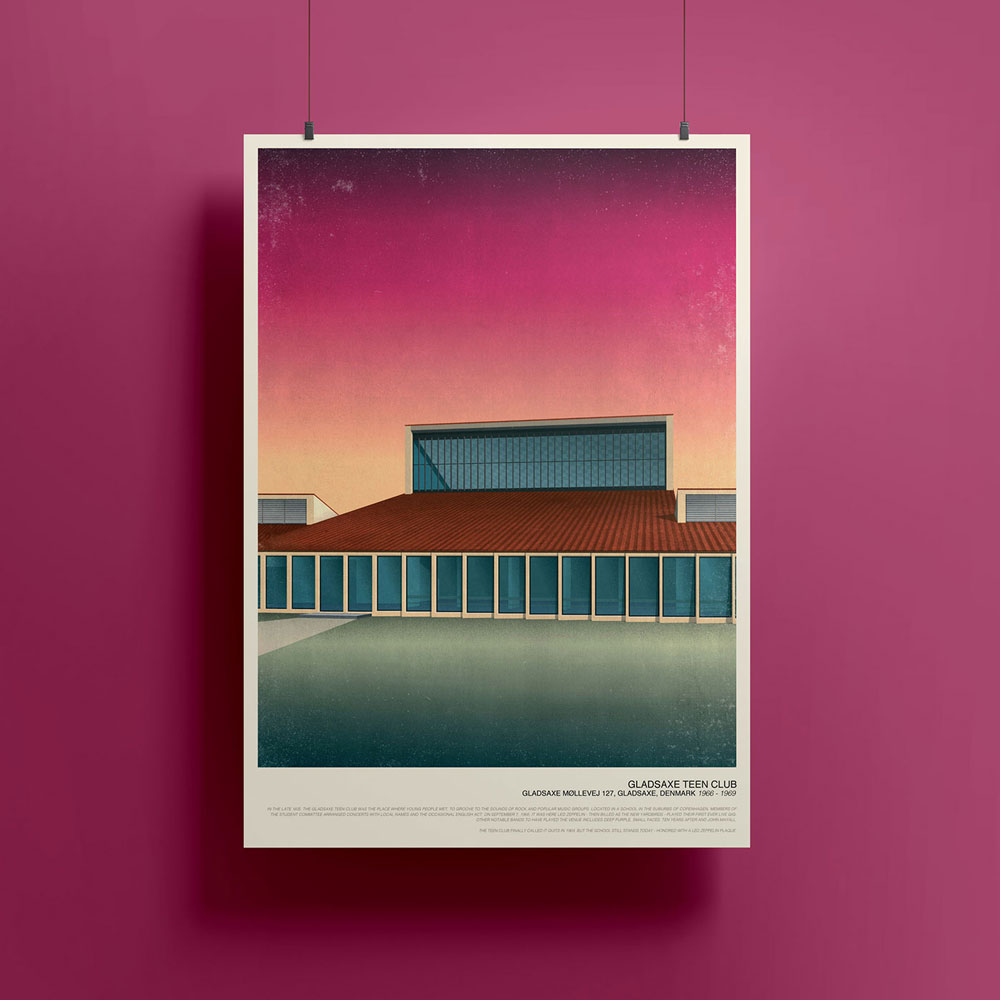 #03
IT'S THE SUBURBS OF
COPENHAGEN. IT'S AT A SCHOOL BALL.
IT'S LED ZEPPELIN'S FIRST
EVER PERFORMANCE.
IT'S___________
TEEN CLUB
BUY POSTER
FILLMORE EAST (1968-1971)
ROCK PROMOTER BILL GRAHAM OPENED THE FILLMORE EAST IN 1968 AND IT QUICKLY BECAME KNOWN AS "THE CHURCH OF ROCK AND ROLL". THE VENUE HAS A SAN FRANCISCO COUNTERPART IN FILLMORE WEST. THE FIRST TIME JIMI HENDRIX PLAYED WITH HIS 'BAND OF GYPSYS' WAS AT THE FILLMORE EAST AT A SPECIAL NEW YEAR'S SHOW, WERE THEY PLAYED BOTH THE 60S FAREWELL AND THE 70S HELLO (12/31/1969 & 01/01/1970). THE GRATEFUL DEAD PLAYED A WHOPPING 43 CONCERTS AT THE VENUE IN ITS THREE YEAR SPAN. LED ZEPPELIN'S FIRST SHOWS IN NEW YORK WAS ALSO HERE, WITH FOUR SOLD OUT SHOWS IN TWO DAYS IN EARLY 1969, LESS THAN FIVE MONTH AFTER THEIR FIRST EVER GIG - AT A SCHOOL I DENMARK.

AFTER A CRAZY RUN WITH NUMEROUS LEGENDARY ACTS, BILL GRAHAM CLOSED BOTH THE FILLMORE EAST AND THE FILLMORE WEST IN 1971. THE BUILDING STILL STANDS TODAY, BUT WITHOUT THE AUDITORIUM OR THE MARQUEE AND IS NOW A BANK.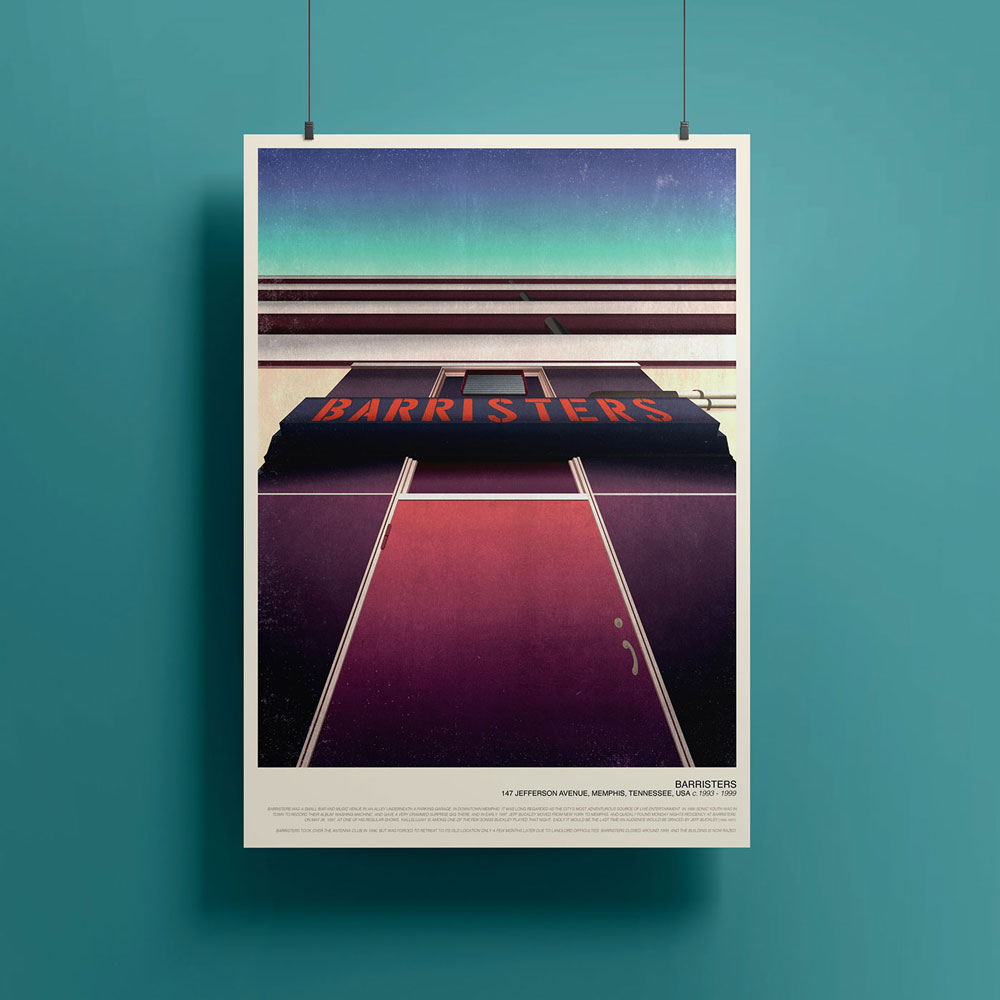 #04
IT'S DOWNTOWN MEMPHIS.
IT'S UNDERNEATH A
PARKING GARAGE.
IT'S THE LAST EVER
CONCERT TO BE GRACED
BY JEFF BUCKLEY.
IT'S_________
BARRISTERS
BUY POSTER
#05
IT'S WASHINGTON
UNDERNEATH A FREEWAY.
IT'S U2 KICKING OF THEIR
AMERICAN DREAM.
IT'S EVA CASSIDY'S LAST
PERFORMANCE.
IT'S_______
THE BAYOU
BUY POSTER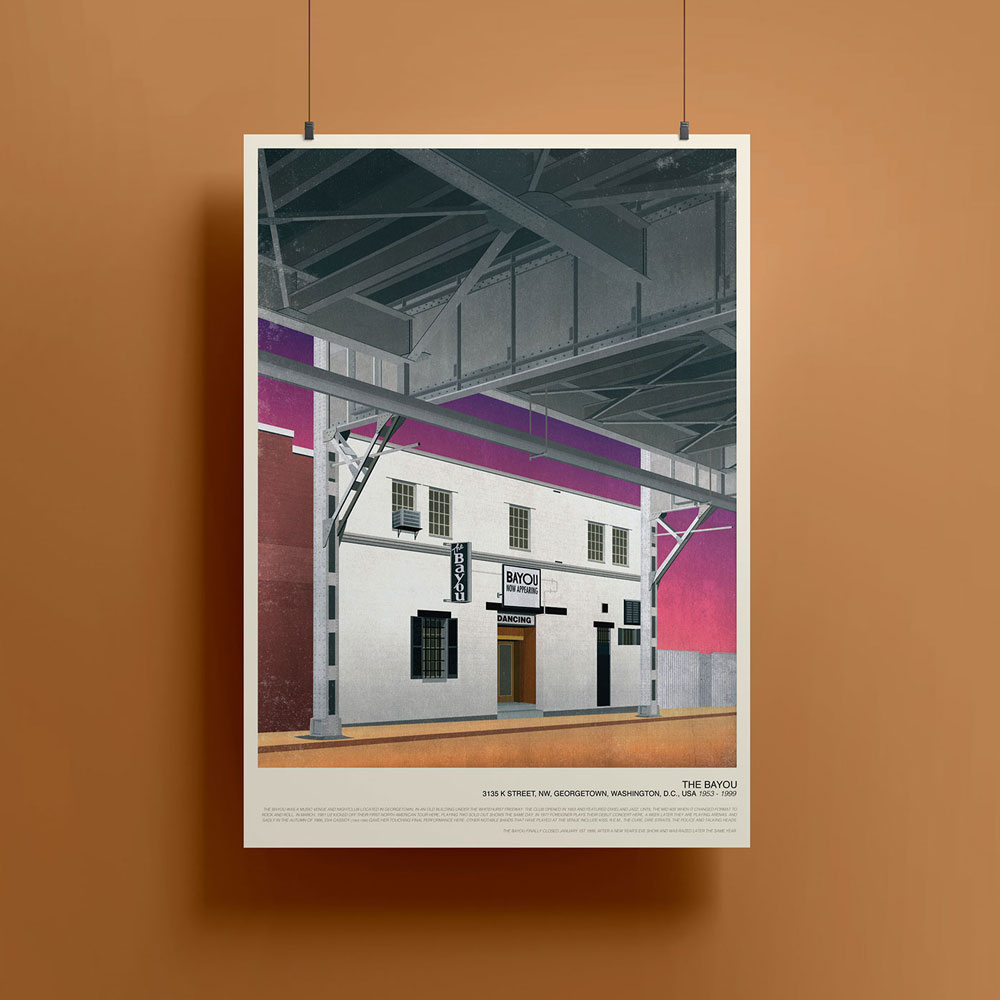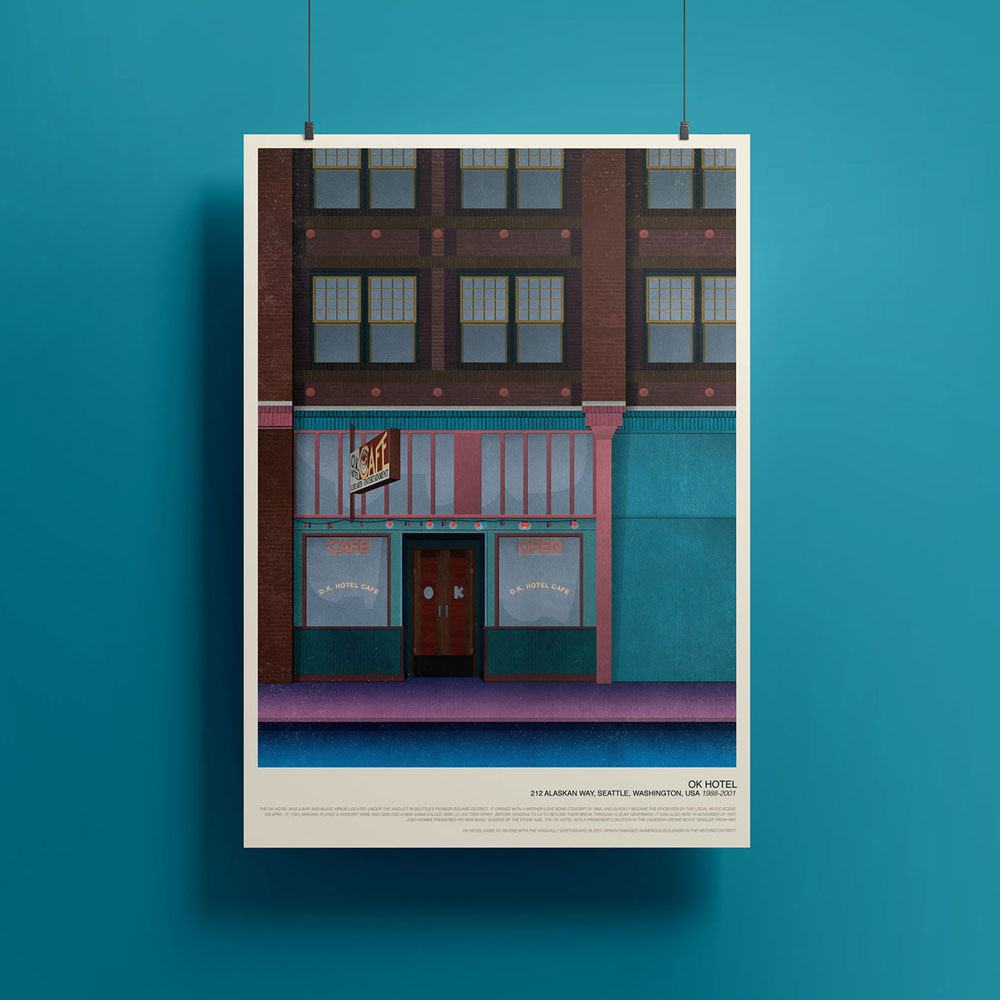 #06
IT'S UNDER A SEATTLE
VIADUCT.
IT'S SMELLS LIKE NIRVANA.
IT'S JOSH HOMME
DEBUTING THE QUEENS.
IT'S__________
O.K. HOTEL
BUY POSTER
O.K. HOTEL (1988-2001)
THE O.K. HOTEL WAS A BAR AND MUSIC VENUE LOCATED UNDER THE VIADUCT IN SEATTLE'S PIONEER SQUARE DISTRICT. IT OPENED IN 1987, AND QUICKLY BECAME THE EPICENTER OF THE LOCAL MUSIC SCENE FOR SEVERAL YEARS RUNNING. ON APRIL 17, 1991, NIRVANA PLAYED "SMELLS LIKE TEEN SPIRIT" FOR THE FIRST TIME AT THE OK, BEFORE HEADING TO LA TO RECORD THEIR BREAK THROUGH ALBUM; NEVERMIND. IT WAS ALSO HERE IN NOVEMBER OF 1997, QUEENS OF THE STONE AGE PLAYED THEIR FIRST LIVE SHOW. BANDS AS SOUNDGARDEN, TAD, AND MUDHONEY WERE VIRTUALLY HOUSE BANDS AT THE VENUE. O.K. HOTEL WAS A PROMINENT LOCATION IN THE MOVIE SINGLES FROM1992.

O.K. HOTEL CAME TO AN END WITH THE NISQUALLY EARTHQUAKE IN 2001, WHICH DAMAGED NUMEROUS BUILDINGS IN THE HISTORIC DISTRICT.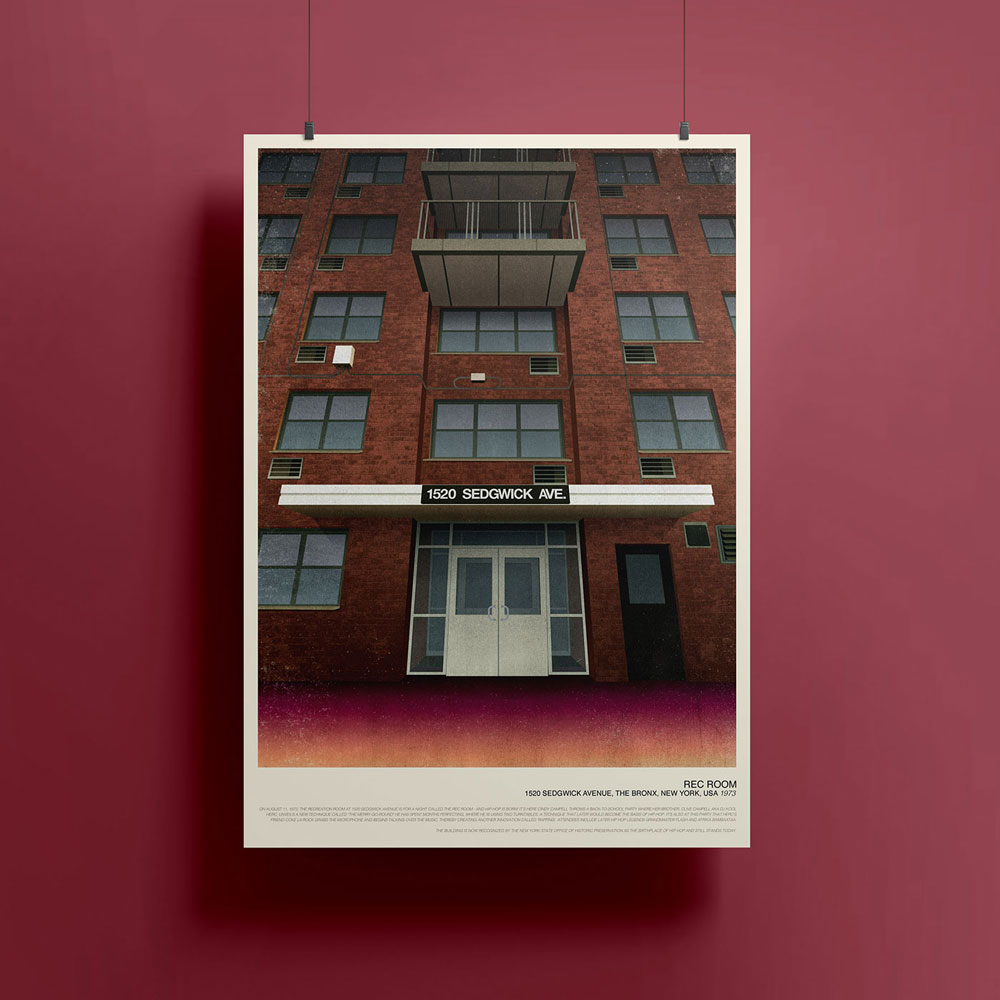 #07
IT'S AT A PARTY IN THE
BRONX IN THE EARLY 70S
IT'S A NEW TURNTABLE
TECHNIQUE.
IT'S THE BIRTHPLACE
OF HIP-HOP.
IT'S_________
REC ROOM
BUY POSTER
#08
IT'S A UNIVERSITY IN
BIRMINGHAM.
IT'S AN 18-STOREY
STUDENT RESIDENCE.
IT'S JOY DIVISION'S LAST
EVER LIVE PERFORMANCE.
IT'S__________
HIGH HALL
BUY POSTER